Every year, April 22nd is celebrated as Earth Day.  I recently read in the newspaper about several activities that are being held on Cape Cod in honor of Earth Day. I began wondering about the history and origins of Earth Day.
April 22, 1970 marks the birth of the modern environmental movement.  Twenty million Americans took to the streets, parks and auditoriums in massive rallies across the country to demonstrate for a healthy and sustainable environment. .  This massive effort by Americans of all walks of life led to the creation of the United State Environmental Protection Agency and the passage of the Clean Air, Clean Water, and Endangered Species Act.
As 1990 approached, a group of environmental leaders launched another big campaign on behalf of Mother Earth.  Earth Day went global, mobilizing 200 million people in 141 countries and lift environmental issues onto the world stage, giving a huge boost to recycling efforts worldwide.
In 2000, Earth Day used the power of the internet to organize activists who sent world leaders the loud and clear message that citizens around the world wanted quick and decisive action on global warming and clean energy.
As a Cape Codder, the environment is an important aspect of this beautiful place we call home.  Millions of visitors a year come to the Cape to partake in the natural beauty that Cape Cod has to offer.
Earth Day 2018 will focus on mobilizing the world to End Plastic Pollution, including creating support for a global effort to eliminate single-use plastics along with global regulation for the disposal of plastics.  The Earth Day Network will educate millions of people about the health risks of plastic, including our pollution of our oceans, water and wildlife and about the growing body of evidence that decomposing plastics are creating serious global problems.
From poisoning and injuring marine life to the ubiquitous presence of plastics in our food to disrupting human hormones and causing major life threatening diseases and early puberty, the exponential growth of plastics is threatening our planet's survival.
CARE for the Cape and Islands is launching a plastic-free campaign on Earth Day, with a focus on a Skip the Straw program.  Americans use 500 million drinking straws every single day.  (Isn't that an astonishing number?!)  Straws are used for a short time, are not recycled and often find their way into the ocean where they become litter and a danger to our marine and wildlife.  The plastic also endangers our own health.  CARE is asking the restaurant industry on the Cape to replace plastic straws with biodegradable paper straws or reusable straws.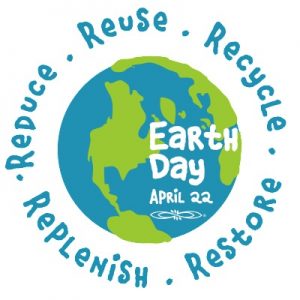 Here at the Long Dell Inn we have always provided our guests with reusable BPA free water bottles that guest could take home to continue to reuse. In fact, it was one of the first decisions we made upon buying the Bed & Breakfast.  We have a large water cooler in the breakfast room where guests can fill up their Long Dell Inn water bottles as often as they want!  We also only have paper straws available for guests to use.
In honor of Earth Day 2018, we have decided to eliminate the one-time use bottles of water that are usually placed in the guest rooms.  We will encourage guests to use the Long Dell Inn water bottles they are given upon check-in.  Let's all try to eliminate as much plastic rubbish as we can – every little bit can help put a smile on Mother Earth's face!
This year Earth Day will be celebrated by over a billion people world wide.  So what will you do to celebrate Earth Day?  This question brings up even more questions:
Don't we all love our planet?
If so, shouldn't every day be Earth Day?
Click here to check out our "Eco-Friendly" page on our website and read about other steps we have taken to reduce our impact on our environment.
Everyone should experience the Long Dell Inn
Looking for a home base for your Cape Cod adventure?  The Long Dell Inn is the perfect place to stay.  Long Dell Inn is a historic sea captain's house with a total of seven guestrooms all with private en-suite bathrooms.  Located in the quiet seaside village of Centerville – frequently called one of the prettiest village on Cape Cod – we are just minutes from a great beach, delicious dining, fabulous shopping, ferries to Martha's Vineyard and Nantucket, and easy access to all your Cape Cod adventures.  Check out our accommodations and book your getaway today!  If you have questions, please call (508-775-2750) or email us.
Sources:  www.careforthecapeandislands.org; www.earthday.org